The beautiful town of Pornic in France is just a day trip away from Nantes. Being just an hour's drive away, you would be crazy not to take the opportunity to visit this very attractive little town. Filled with history from its ancient past, there are plenty of things to do and places to explore. That is why I have come up with this travel guide of Pornic.
I stayed in the area around Pornic for two nights whilst travelling around Europe in my camping car. I really enjoyed wandering around this beautiful town as well as the countryside around it. It made a really nice base to park my Nissan X-trail nearby meaning I could sleep in beautiful surroundings and be just a stone throw away from the amenities found in a town like Pornic.
Travel guide of Pornic: Why Pornic?
Pornic is so close to Nantes, you can easily travel just for the day. However Pornic is a great place to stop en route when driving along Northern France's coastline. It has a harbour in the heart of the town where you can really enjoy a slow day drinking coffee and eating tarte de tatin.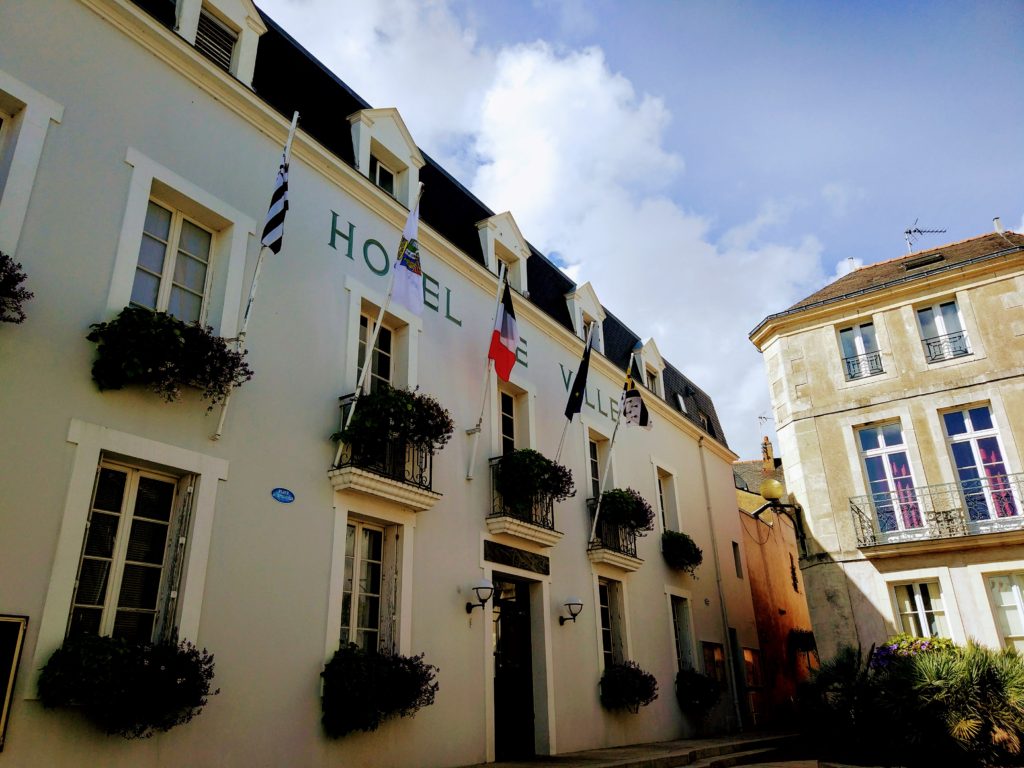 Not only is the town very well looked after, which is beautiful on the eye, it also contains so much history. Pornic has been invaded by the Vikings, is the final resting place for many who fought in the Second World War and . . . As well as all this history Pornic also has more than 12 beaches for you to spend some time on.
Travel guide of Pornic: What to do in Pornic?
Harbour:
The harbour is found in the centre of town. With many boats filling the area, it can be a really nice place to sit and spend some time watching the fishermen. From here you can also catch a sailboat to give you a trip around the local area.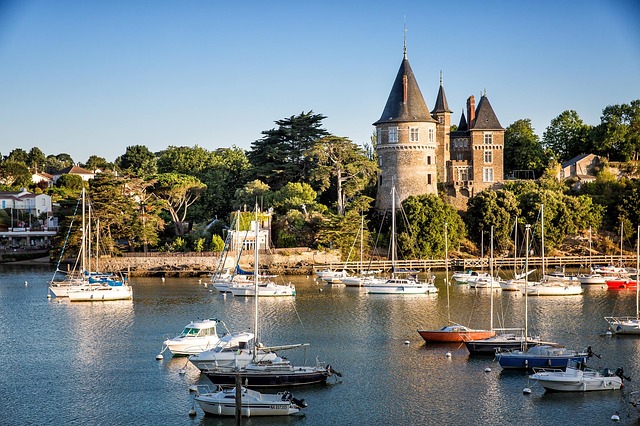 Castle:
Pornic was invaded by Vikings in 10th century AD due to its trade of salt and other commodities and so a fortified castle was built to protect the entrance to the port. Then, in the 12th century AD, a stone castle (Château de Pornic) was built which still remains today as the focal point of the town.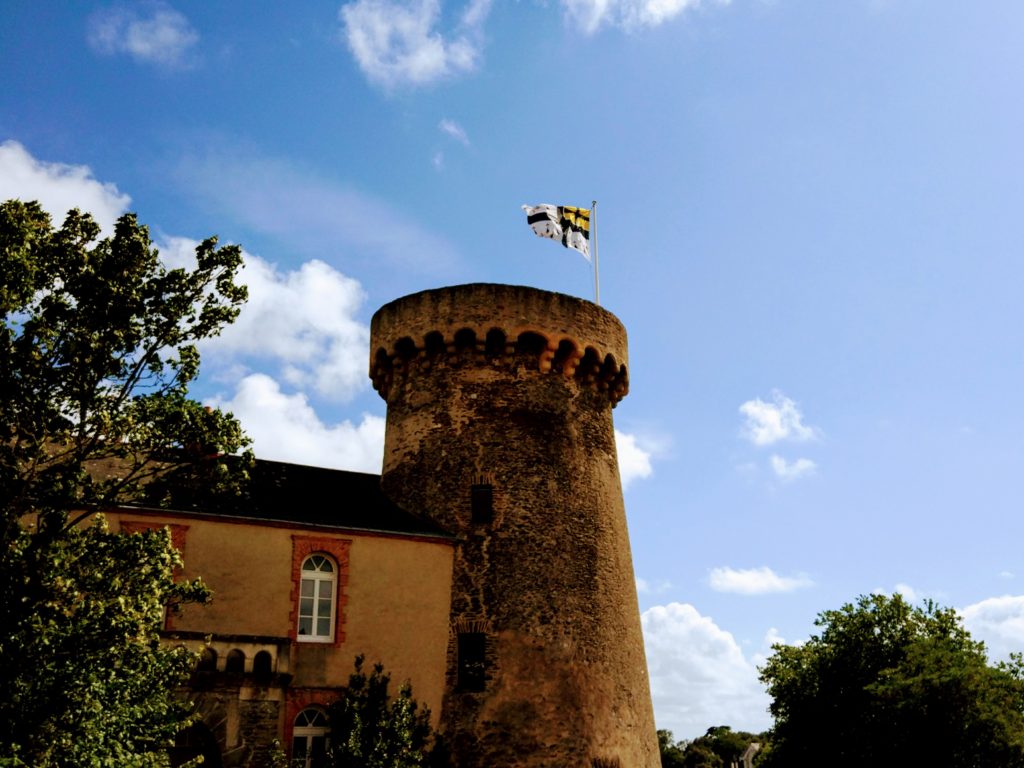 The Château de Pornic was once home to the French military leader, lord and comrade of Jeanne of Arc, Gilles de Rais in the 15th century. He is thought to have inspired the fairy tale Bluebeard although there was no nice fairytale ending for the children he later confessed to have murdered. The Château de Pornic is privately owned and you cannot visit inside. However the medieval castle has become a symbol of the town and it is nice to visit on the outside.
Pornic Cemetery
The British Cemetery in Pornic is the resting place for over 200 British soldiers along with 199 graves of other nationalities such as; Australians, Canadians, Indians, New Zealanders and South Africans. They were amongst the 4,000 who died on 17 June 1940 when the commandeered Cunard Liner Lancastria sunk after being hit by German bombers off Chémoulin Point near Saint-Nazaire. This was the biggest loss of life of British forces in a single engagement during the Second World War. Visit to pay your respects to those who were lost on this fateful day.
Coastal road:
The coastal roads around Pornic are really pretty. You can either start at the castle and take a walk on the Corniche de Noëveillard or you can cross over to the other side of the port and take a stroll down Corniche de Gourmalon. Both are beautiful walks – however Corniche of Gourmalon is my favourite.
Beaches:
With a 15 Km coastline, there are a number of beaches around Pornic, France. The most beautiful beaches are Plage de l'Étang and Plage de la Boutinardière both of which, you need transport to get to.
The Plage de l'Étang is north of Pornic though there is parking there. It is 150 metres in length and has two coves and golden sands. In July and August there are lifeguards from 11am to 1pm and from 2pm to 7pm.
The Plage de la Boutinardière, south of Pornic, is a great place for fishing and it is nice to wander along the rock formations. It has several fishing cabins on stilts which stretch out into the sea. Unfortunately there is no lifeguard on duty at Plage de la Boutinardière.
Botanical Gardens:
Pornic, France has a large botanical garden called the Parc Botanique de la Ria. It is a 13 hectare botanical gardens split into 3 parts. From here you will have great views over Pornic town and the surrounding French countryside.
Markets:
Pornic's traditional market takes place Wednesdays, Thursdays, Saturdays and Sundays. There is also an organic market on a Saturday in the afternoon. In December there is a Christmas market and festive activities.
When to go to Pornic, France?
For the nicest weather I would recommend you visit Pornic between June and mid September as nearing the end of September to the middle of May are the wettest months. However August gets very busy due to the summer tourists, both French and foreign.
Where to stay in Pornic, France?
There are many places to stay in Pornic and I have a couple of recommendations for you to cover all price ranges.
Budget:
Don't forget to take a look on CouchSurfing in plenty of time before your trip and see if there is someone who is willing to host you. Safety is of importance so check out my post on how to stay safe whilst Couchsurfing.
Airbnb is great for finding places to stay on all budgets. You can either rent a room in a shared house or find an apartment to yourself. Don't forget to use my link to get money off your first Airbnb stay.
Mid range:
Again check out Airbnb where you can pick up a beautiful apartment for not too much damage to your purse strings. If you are looking for a hotel then I recommend Les Sablons in Pornic, France.
Luxury:
For those who are looking for something a little bit extra special, I suggest Alliance Pornic Resort Thalasso & Spa  in Pornic.
How to get to Pornic, France: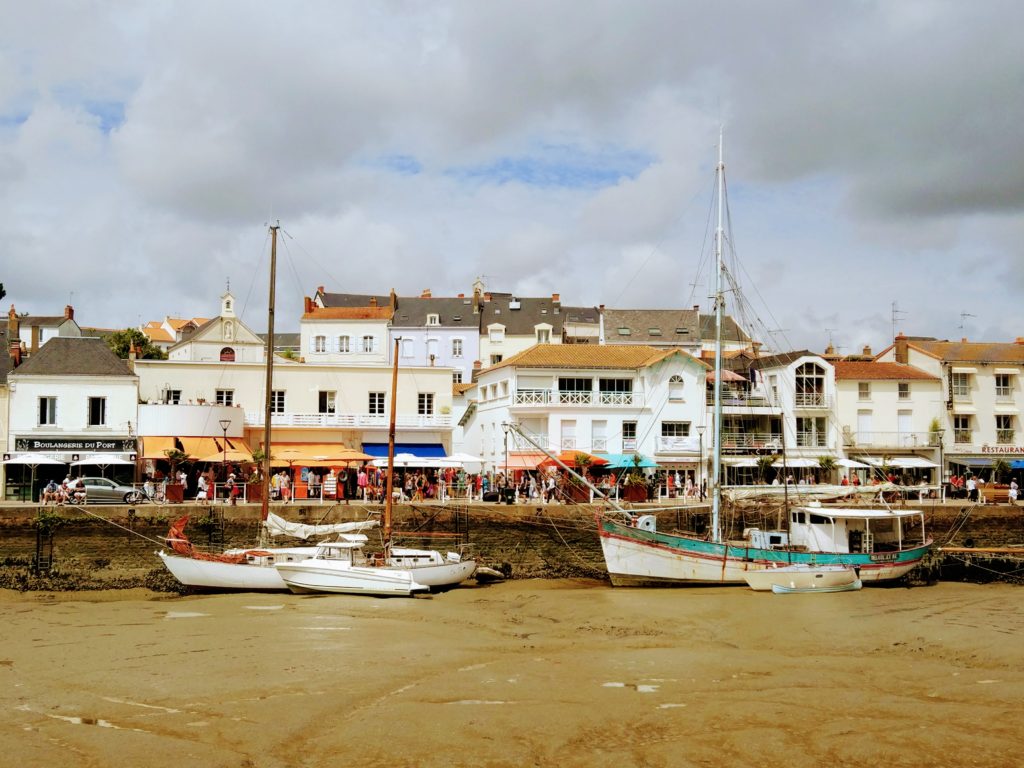 Air: Pornic is just 40 minutes from Nantes Atlantique Airport. There are many flights from the UK and other European destinations.
Train: Pornic is an hour by train from Nantes. Nantes is connected with high speed TGV trains from Paris (2 hours) and Lille (4 hours) in northern France.
Road: Pornic is an hour's drive from Nantes and 4 hours from Paris.
So there you have my travel guide to Pornic, France. As you can see, there are many things to do as a tourist in Pornic.
Have you ever been to Pornic? Would you like to go? Tell me what you think in the comments below. And don't forget to subscribe to my blog (It's free) where you can get fortnightly updates into your inbox.
Just a note to say:
Have you noticed I do not have intrusive adverts on my page making the site run slow for you, or that interrupt your reading. This is because I want to make your reading experience as pleasant as possible. Writing blog posts isn't as easy as it looks. I spend a long time making sure I give you correct information about places, edit the posts so they read well and then add the edited photos I have taken or add the google maps location. I do this as I love to travel and love helping other people to travel. If you enjoyed what you have read then there are other ways you can support me as a travel blogger other than putting up with annoying adverts:
You could buy me a coffee
Use the links on my sources page which are affiliates.
– Head over to Amazon to buy some products using this link .
– Looking for website hosting? Take a look at Bluehost using this link.
– Need to book some accommodation then check out Booking.com and Skyscanner for flights, check them out using this link.
Thank you for your support.