Imagine a place full of homes cut out of the rocks. A place where people still live in caves. It sounds like I have gone back to the time of cavemen! But here I am in Cappadocia in the highlands of Turkey where some of the nicest hotels are within a cave. This is just one of many things on the list of what to do in Cappadocia, Turkey.
Welcome to a land that feels like you are in the Flintstones.
I should make it clear before you look for Cappadocia on the map that it is not a town or a city, but a region in the centre of the Anatolian area of Turkey. Cappadocia was formed when ancient volcanoes covered the area in layers of ash and harder stones. Due to the harsh ever changing weather in Cappadocia this rock was then carved by the wind and rain to create the valleys and other unique shapes that is now known as Cappadocia. An alien landscape that can transport you back to a mystical time.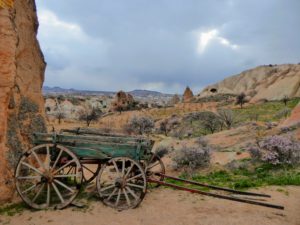 Before we discuss about what to do in Cappadocia, let us learn why it's worth adding to your travel bucket list. So why Cappadocia? Well I'm about to tell you:
What to do in Cappadocia No. 1: Flying like a bird
Cappadocia is famous for its hot air balloon rides. Each day that the weather conditions are right, hundreds of balloons take to the sky at sunrise and sometimes sunset. The excellent flying conditions allow the balloons to drift past the interesting landscape and view the area from above. It is no wonder why it is among the top on the list of what to do in Cappadocia.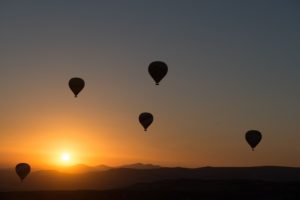 But surely with so many balloons in the sky at once, there are accidents. Yes there are. In fact a tragic accident happened when I was photographing the balloons one morning. Just over the horizon of this photograph a balloon crashed into an electrical cable killing a French man. An unpredicted gust of wind had blown the balloon out of control.
Balloon accidents are frequent in Cappadocia, but with the sheer amount of traffic in the sky, you are more likely to have an accident driving than you are in one of these balloons. However, my advice is not to go with the cheapest company where shortcuts might be taken. Don't risk your life to save a few quid.
However I would recommend you take this once in a lifetime opportunity. Why? well read all about it in a guest post by Probe Around The Globe written for me HERE.
What to do in Cappadocia No. 2: Its phallic-shaped rocks.
One thing Cappadocia is well known for is its fairy chimneys. I can personally say I have never seen a fairy chimney before – perhaps fairy chimneys look like parts of the male anatomy?
I'm sure whoever named Love Valley thought the same. This quirky formation is therefore a must on the list of what to do in Cappadocia.
My favourite hike in Cappadocia was in Rose Valley. I found the landscape and the colours amazing. I also had a very local experience whilst in the valley when I was invited by locals to share their lunch. I ended up volunteering for an hour or so pruning their grapevines.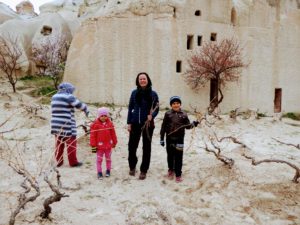 You can read all about my hike here.
What to do in Cappadocia No. 3: Going underground in Cappadocia
The underground cities of Cappadocia were the hiding places for Christians before it was an accepted religion. To prevent them from being persecuted by the Roman soldiers they hid in these cities where doorways were not easily identified. The underground cities had their own defences such as holes to throw spears from and large rocks to hide doorways. The underground cities of Cappadocia really are just this, a city with chimneys, storage rooms, water wells, toilets, churches, abbeys, and of course wineries. These areas were linked with tunnels which can only fit one person at a time. Hence, if you are thinking about what to do in Cappadocia, you need to add this to your list.
The biggest underground city is Derinkuyu.
What to do in Cappadocia No. 4: Climbing the Rock Castle
The highest point in Cappadocia is the Rock Castle at Uchisar. It gives amazing views of the area and gives you the opportunity to explore some of the many caves in the area. It costs 5 TL to enter the Rock Castle. Don't forget to add this to your list of what to do in Cappadocia.
However, you can climb quite high following some of the paths round the back of the Rock Castle for free. But please be careful where you go as it can be steep at times.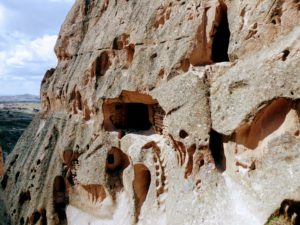 It was in this area where I videoed this call to prayer:
What to do in Cappadocia No.5: Exploring the caves homes
The soft rock of Cappadocia has been used by the people calling Cappadocia home for many centuries. There are many homes, churches and now cave hotels cut into the rock of Cappadocia.
Such places can be found where you pay such as at Göreme Open-Air Museum and for free such as when you are hiking the Rose and Red valley, around the Rock Castle and basically in all cave hotels that you can stay in.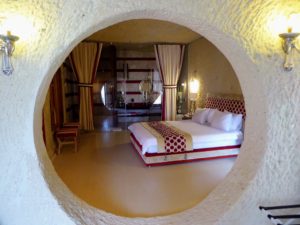 When exploring these areas, just be aware that if it has a door on it, then it is most likely to still be someone's home.
What to do in Cappadocia No.6: Göreme Open-Air Museum
The Göreme Open-Air Museum is a very touristy site and one of the first places most people visit when in Cappadocia. With its churches, chapels and monasteries cut into the rock and beautiful frescoes (wall paintings), it is easy to understand why it is a UNESCO Heritage site.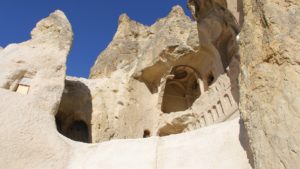 It has an additional museum with an extra charge of ₺10 to enter. However a few people have told me that this is not worth it unless you are particularly interested in this historic time.
Just a 15 minute walk from Göreme village centre, it is easily accessible
Getting around Cappadocia.
Unfortunately, public transport is not really an option when in Cappadocia. You can either do as I did and hire a car or hire a private driver. There are also three main tours that you can take: Red (Dervent Valley), Green (Underground City) and Blue (Soganili Valley and Mustafapasa). You can take these as a private tour or a group tour booking through your hotel or online.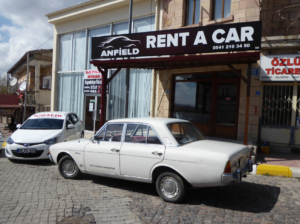 However if you are confident to hitchhike then Cappadocia is a perfect place to do this. You might even be picked up without asking which happened frequently to me when walking in Cappadocia. The locals are so friendly and really want to show you their Turkish hospitality and drop you off places.
Best time to go to Cappadocia?
The best time to go to Cappadocia is April to June and September and October. During this time the days are warm but the nights cool. However be aware that if you want to go in a balloon, at the beginning of April when I was there, it can be quite windy, meaning the balloon trips are regularly cancelled.
In winter it is magical to see Cappadocia covered in snow but note that a lot of trips will not be running. In summer Cappadocia is unbearably hot.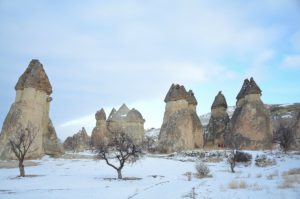 Where to stay in Cappadocia.
There are many cave hotels in Cappadocia in a range of budgets. I personally can recommend Nazims Place where you will be treated to the local hospitality with traditional cooking and a friendly homely vibe.
If you are looking for a place a little more upmarket then check out Horizon Hotel.
Did you enjoy reading about what to do in Cappadocia? Perhaps you would like to check out my other posts on the area such as hiking the Rose Valley, ballooning in Cappadocia, 10 free things to do in Cappadocia and others post from Turkey. What would you most like to do from the list above? Don't forget to subscribe to my blog (It's Free) for fortnightly updates to your inbox.
Disclaimer; this post contains affiliate links meaning at no extra cost to you, I receive a small amount of money when you purchase them to help with running costs of my blog. All thoughts I have on these items are my own and I would only ever recommend products I truly believe in. Please support my blog by using the links.