Portugal, a place I will always remember as the country that really surprised me. From the kindness of locals in rural areas to the hipster vibe of Lisbon. The beautiful beaches to the wild winds. It is also the place where I met up with friends that I have met around the world. Portugal is most definitely not an expensive country to travel in, in fact, things are pretty cheap in Portugal compared to the rest of Western Europe. But I certainly made things even cheaper by travelling around Portugal in my Nissan X-trail camping car.
My time in Portugal started when I crossed the border from Spain in my camping car into Chaves in the north of Portugal with Tigger the little poorly kitten I had picked up in Spain. He was getting stronger and stronger but was still having problems passing urine. I explored Chaves old town before heading over the mountains to a large reservoir where I parked up for the night.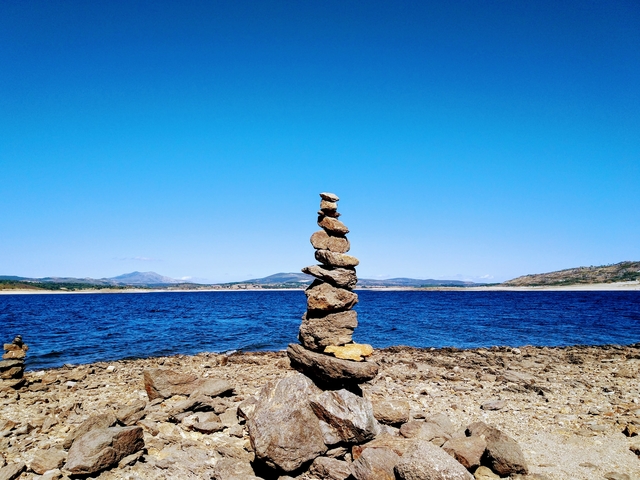 I woke up to beautiful views and explored a sweet little town where they lived just a basic life. A well served as a water source and the older generation stared at me driving my right-hand drive car in astonishment. I am pretty sure not many right-hand drive vehicles passed through this area. The reservoir which I cannot actually find the name of had been made by the Alto Rabagão Dam which is 94 metres high. This was a windy drive over, with a few puncture-inducing steel rods sticking out of it. It was a great drive to take and recommended by a group of bikers I had recently met in Spain. Tigger the kitten enjoyed stretching his legs down by the water's edge.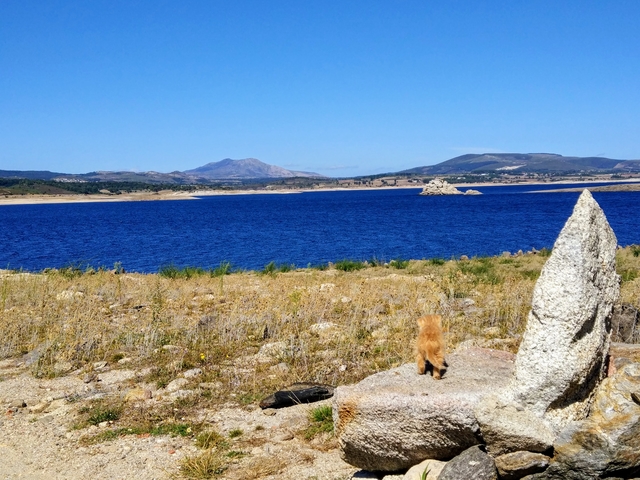 I then drove west towards Braga which I hadn't heard of before even though it is the third largest city in Portugal. I was keen to explore it and was pleasantly surprised at how much there is to do in Braga. Braga is one of the most religious cities in Portugal. It is home to Bom Jesus do Monte in Tenões, near Braga, and gives lovely night views of the city. Its name translates to Good Jesus of the Mount and it is a well-known pilgrim site in Portugal. It has a Baroque stairway of nearly 600 steps which pilgrims used to be encouraged to climb on their knees to reach spiritual clarity of purification and redemption. I, however, decided that I would make the walk upright and at night I decided to drive up in my car to watch the sunset and see the lights of the city come on one by one.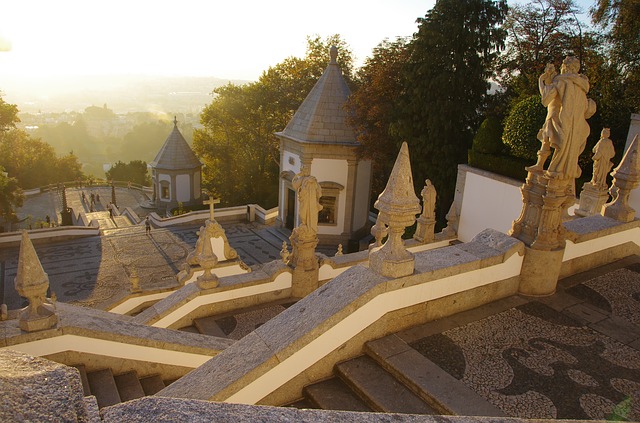 One thing I was surprised to see there was a young entrepreneur / young man taking the money out of a fountain at Bom Jesus Do Mont. I spotted him cycling up to the fountain and waiting until no one was around before reaching into the water and stealing the coins. I have been brought up knowing what is right and wrong. I would never dream of doing this but it did raise a question in my mind which I addressed in a blog post about who owns the money and if this is theft.
Braga is also full of history with 18th-century houses and Baroque churches, however, I found it unexpectedly hip and having a massive student vibe. Braga's upscale old centre has many trendy cafes as well as student bars. I really enjoyed my time in Braga where I stayed a little longer than the expected one night due to Tigger the kitten falling ill.
Tigger had been having problems passing urine for a while after I found him dying in the streets of Spain along with his sister. He was severely dehydrated and on the brink of death. Due to a bad urine infection and very swollen male bits making it hard to pass urine, he had been needing help to do this for the past week. Things got critical in Braga when Tigger stopped passing urine completely. He was seen at Centro Veterinário de Gualtar in Braga by Susana the vet. I can't thank Susana enough for what she did for Tigger and all the love and care she gave him. Tigger had to have a needle in his tummy to drain out the urine, to ease the pressure along with medication to help him recover. She even donated her time to making Tigger better.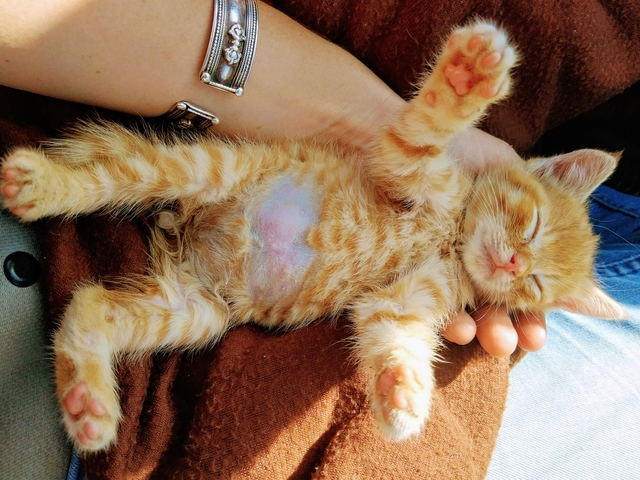 Once Tigger was back passing urine again, I headed down the coast to just after Porto before heading inland a little. I found how stunning the beaches are in Northern Portugal. I can see why they are popular for kitesurfers as it is so so windy. It had started getting quite cool at night, being mid-September, to the point that I was having to sleep cuddling up to Tigger with my sleeping bag and the duvet over us at night. I had a plan: head south along the coast to get a little warmer and to get nearer to Tigger's new home. I had certainly started to drag my heels a little bit as my time with Tigger was precious but I knew the home that I had lined up for him was a great one.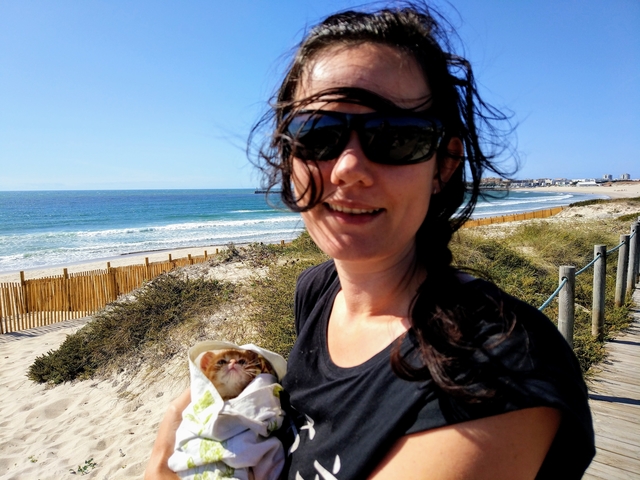 It was on one of these sandy beaches I came across the Chapel of the Lord of the Stone (Capela do Senhor da Pedra), a beautiful little chapel on the rocks surrounded by a sandy beach. Built in the 17th century, it's had regular bashing from the waves and strong currents yet it still stands there, a symbol of strength. For fishermen it is a reference point, for others, it is surrounded by mystery as by night it is rumoured to be the work of witchcraft. For me, it was a beautiful surprise when walking the boardwalk along the coast. A quaint chapel and one I stood on for a while looking out to sea.
As I was looking for somewhere to stay whilst heading toward Lisbon, and needing a cheap place to stay with Tigger whilst he was slightly incontinent, I came across the city of Coimbra. Situated on the banks of the River Mondego, medieval Coimbra is known best for its university, one of the oldest in Europe and the oldest in Portugal. It was a beautiful place to explore and had many outdoor spaces to enjoy.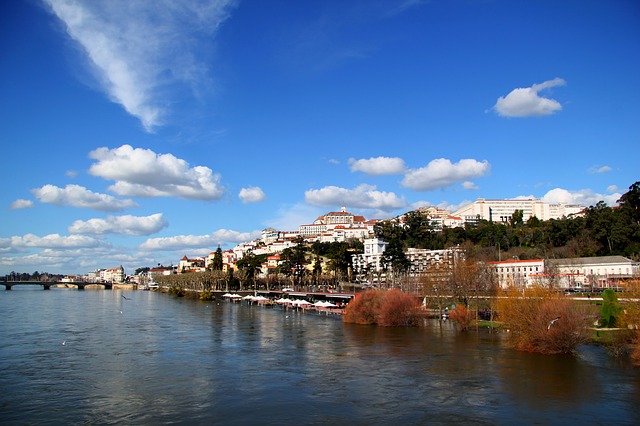 Next stop was Lisbon and Ericeira. I had two sets of friends here and spent my time between the two of them whilst Tigger was making his final recovery. Firstly there was Louise who lived in Ericeira just 40 minutes from Lisbon. I had met Louise in The Philippines at Nature's Healing Home where I had rescued Echo the dog. We had kept in touch and she had kindly helped me find a home for Tigger with one of her friends. A keen surfer, a talented writer and lover of travel, we had become friends. I really enjoyed the vibe of Ericeira, mostly a surfing community but also it had lots of different things going on there. Louise had called it her home for a while and I can see why she likes it more than the UK.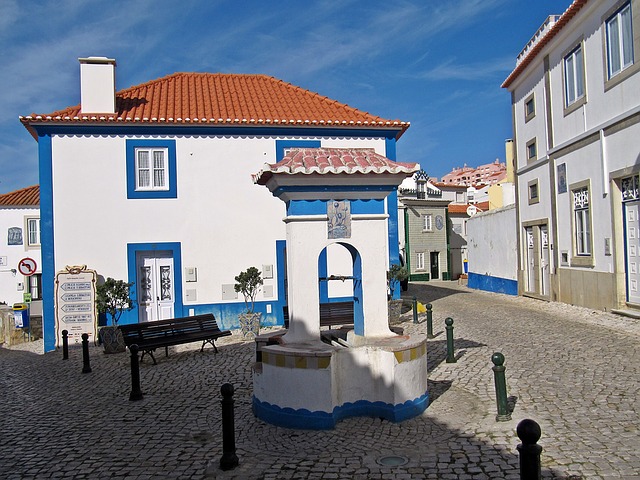 One of the great things going on in Ericeira was each Friday there was a Karma Yoga class with Lotte Yoga at Casa Paço D'Ilhas. All the proceeds from this class were donated to a very worthy cause in India, a project run by SISP at Kovalam Surf Club. SISP primary goals are to improve the livelihood opportunities for members of severely marginalised communities in India. They have many projects such as giving school dropouts a second chance, empowering women, social welfare centres and a surf school.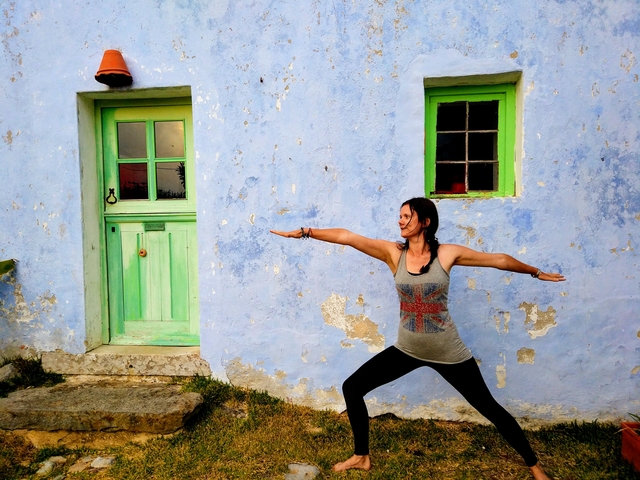 The project close to Lotte Yoga's heart as a keen surfer is Kovalam Surf Club. Kovalam Surf Club uses surfing to empower youths and develop communities. Their strict rule of: "No School, No Surf" encourages children to attend school and gives them an activity to do after school to keep them off the streets.
My friends in Lisbon are Mihai and Fritzi. I met them when I was Couch Surfing in Hamburg and again had kept in touch with them. Four years later, I found myself staying with them again in their cute apartment and going to all sorts of events in Lisbon such as an event at Tejo Bar in Lisbon. Here they had fifty artists perform solo or collaborations with each other. Some are street performers by day showing their musical talents to the people of Lisbon on the streets in tourist areas. It was a lovely mix of music from all around the world.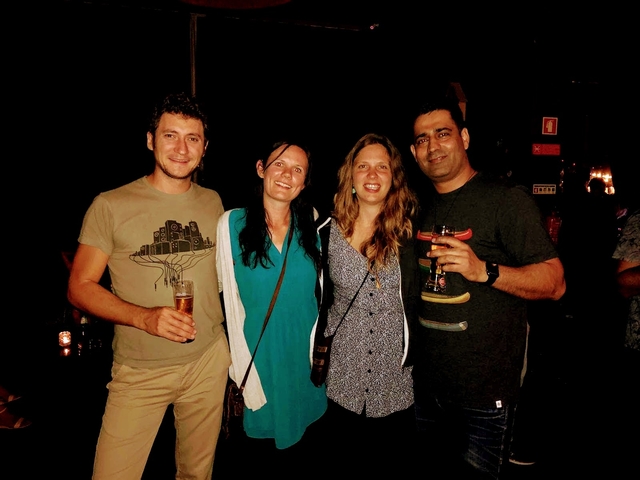 Mihai and Fritzi are supporters of HuBB – Humans Before Borders. Humans Before Borders is a platform for action against inhumane and illegal treatment of migrants and refugees. Mihai also has a super blog at The World Photo Tour and is a talented photographer.
Lisbon surprised me as a city. I never have been much of a city fan but my love for Lisbon is on par with my love for Berlin. It has a cool hipster vibe, great street art and lots going on. When I was in Lisbon, I came across a great tour company called. . . . .wait for it . . . We Hate Tourism Tours. They invited me to go out for lunch with them on one of their tours. We dined at the famous LX factory in Lisbon. We Hate Tourism Tours took a group of us to their favourite place to take lunch, treated us to great conversation and fed us until our bellies were full.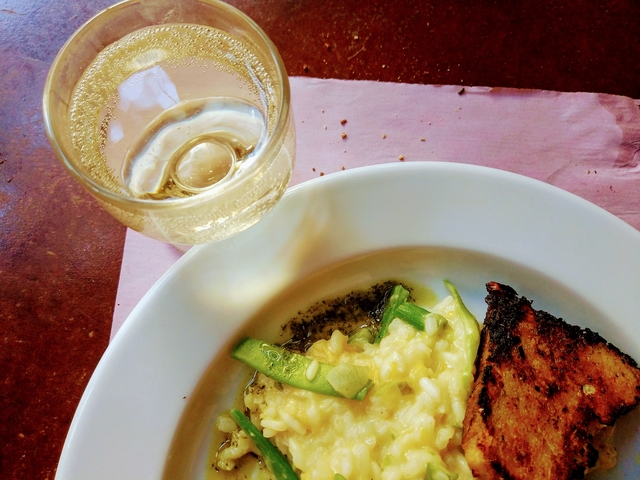 Did I mention the wine? Not only did they feed us but they watered us too. They even gave us a cheeky tipple of Moscatelito upon meeting, lashings of wine on the table and then invited us to their cool offices for cherry shots afterwards.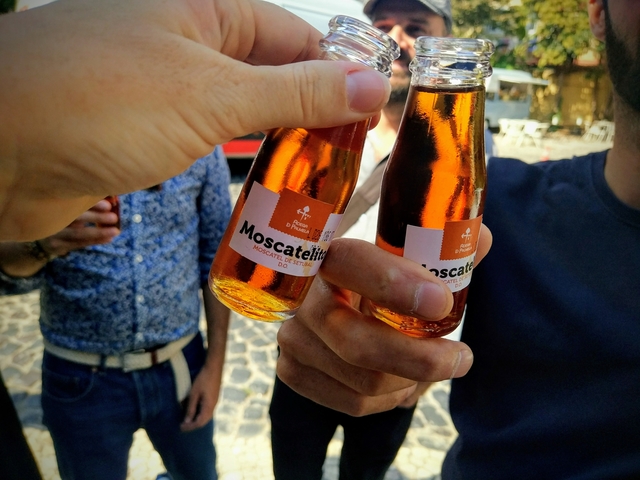 So why didn't I just make my normal pasta dish on my stove in the back of my travelling car instead of going on a tour where you are basically just there to eat lunch? Well not only did I learn about the history of the LX Factory, but I also learnt a lot about Lisbon and about Portugal. I was exposed to great food, great chit chat, made friends with people I wouldn't have otherwise have met and more importantly, who doesn't like a tour company that hate tourism tours!
I ended up taking a sightseeing tour with We Hate Tourism Tours. I love seeing a city in a different way to how most other tourists see it. This might be because I don't like to identify as a tourist or perhaps I like to think I am not one of those people who follows the crowd . . . I am not sure. I cannot help but be blown away by a tour of Lisbon by We Hate Tourism Tours. I spent the day with Pedro who knew the city of Lisbon like the back of his hand. I learnt and saw so much with a small group of great people.
It was nice staying in the area for a while whilst I waited for Tigger to be well enough to go to his new home. I did many day trips, one being to Sintra. One evening I decided to watch the sunset over the sea at a beautiful location just because sometimes it is nice to stop for a moment. Grab the duvet from the back of the car. Sit down on a cliff top. Listen to the ocean. Smell the sea air. Think about all the great opportunities you have. Watch the sun set on yet another beautiful day, remembering how lucky you are. It made me realise what a dramatic coastline it is around Portugal.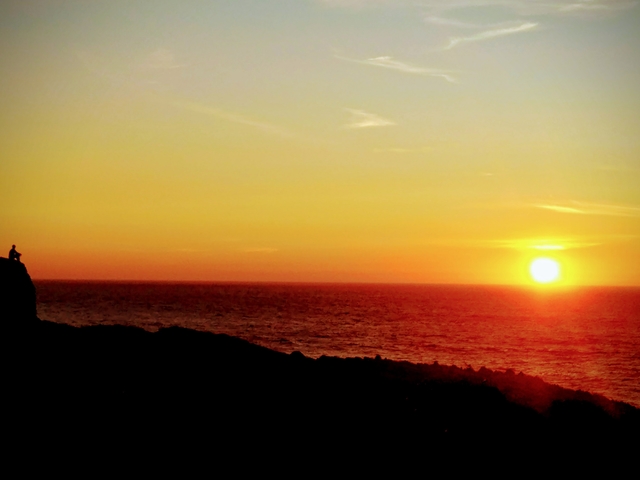 So when my life long friend Isabel who was travelling in NZ suggested I meet her friend Nikhil who was currently at a conference in Lisbon, where else would I choose to go on a magical mystery tour (in other words let's head off in this direction and see what we find) but Sintra area. We ended up doing a tour of Sintra National Park. We found the most western point of mainland Europe and sat away from the typical tourist monument choosing some rocks looking out at the view of the sea merging with the sky. We checked out random beach bars along the route and found a lovely corner of a beach where if you timed it right with the waves, got to explore a great rock formation.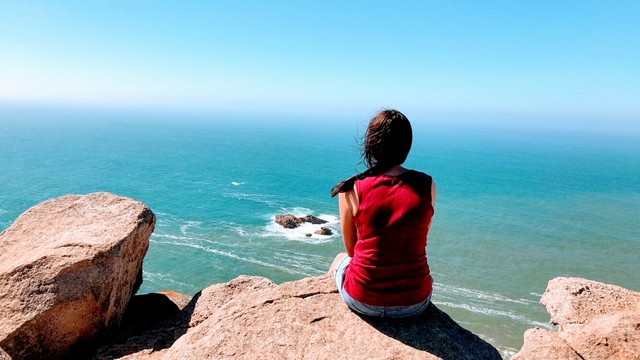 Then later in the week, I found myself in Sintra again, with a mountain biking tour company called WERIDE. A small group of us were taken into the forest at Sintra, given a top quality mountain bike and then, with our guide Hugo, were shown how to bike the trails in the area. I rode tracks that I didn't think it was possible for me to go down and really got that adventure feeling I am always seeking. And once I was so tired that my legs wouldn't work anymore, we rode down the hillside through quaint villages and small alleyways to the Atlantic Ocean for a beer on the beach.
When Tigger was finally well enough to go to his new home, it was time for me to leave the area and move on with my travels. Tigger's new home was with an artist who had a large area of land around his studio. Tigger's new friends were an 8-month-old cat and his owner's daughter. When Tigger met the daughter, I knew it was meant to be as he gave her one of his cat kisses. I knew he would be well looked after and have space here so, with a lump in my throat, I handed him over and said my goodbyes.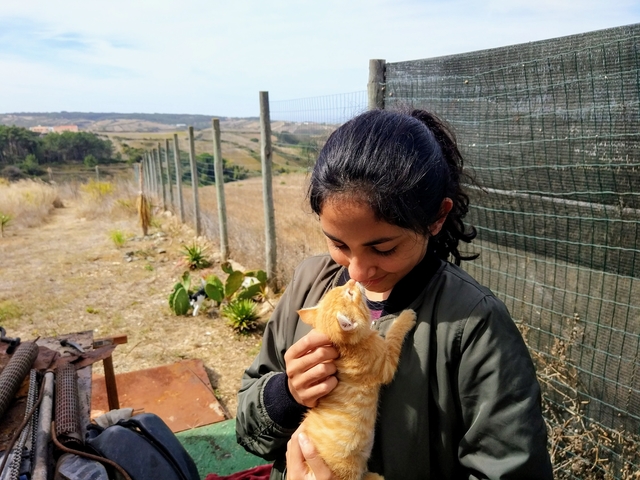 Many people asked me why I didn't keep Tigger. He really enjoyed the travelling lifestyle and curled up and went to sleep on the passenger seat as I drove. He loved to explore and could really have been an amazing travelling companion. My reason for giving him away was his own safety. Unlike a dog, I couldn't take him everywhere with me. I couldn't walk through a city with him in case he was attacked by a dog. I certainly couldn't leave him in a car when it wasn't possible to take him with me and, as he got bigger and older, he would have wanted to explore each place we went to but as a stranger to the area, he wouldn't have had his own territory. At this point, I didn't quite know how long I was going to be travelling in my car so it wouldn't have been right to have taken him with me. So with a heavy heart for me, Tigger is now living in Portugal and renamed as Ramon, after his Spanish roots.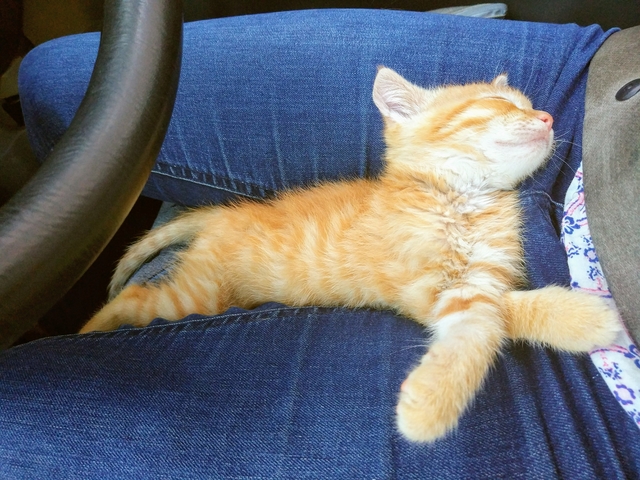 As poor Clyde my travelling car ended up in a garage near Lisbon having a few problems fixed, I took the opportunity to take a road trip (I know that this is basically what I have already been doing for the past 12 weeks). So all of a sudden I ended up driving on the right side of the car for the country, on the wrong side of the road for me rather than the right side of the car for me, on the wrong side of the road.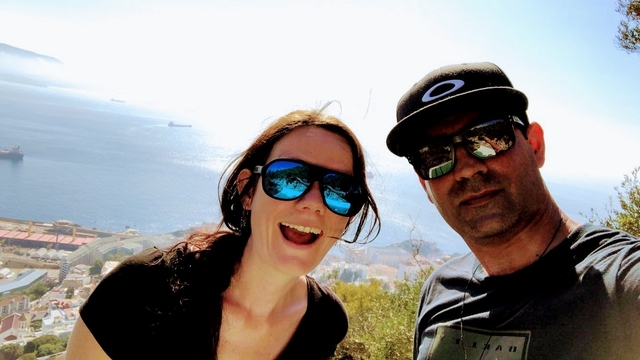 I took this road trip with Nikhil which took me across into Spain, looping around and back to Lisbon to pick up Clyde again and drop Nikhil off. It was a great road trip and gave me a final chance to say goodbye to Ramon (Tigger) putting my mind at rest as to how happy he was. It was amazing how much he had grown in such a short space of time.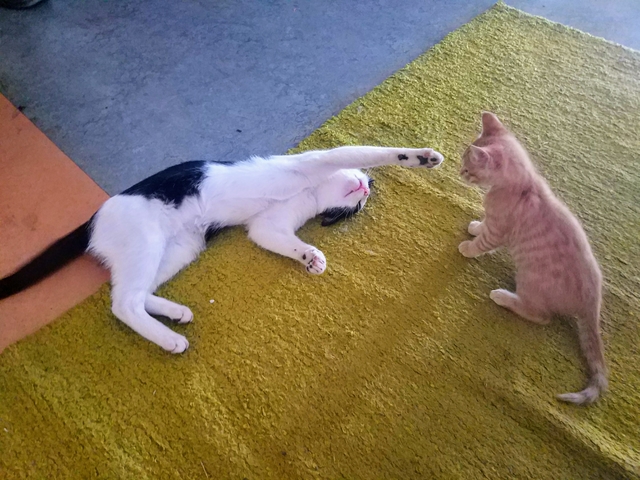 So off I head, travelling south. I ended up driving through the protected area of Southwest Alentejo and Vicentine Coast Natural Park when I got a little lost and headed into this little town called Vila Nova de Milfontes. Milfontes is so quaint with its cobbled streets and whitewashed houses. It also has a dramatic coastline and views across the Mira River. Apparently, in the summer months, it is really popular with Portuguese tourists and is really busy.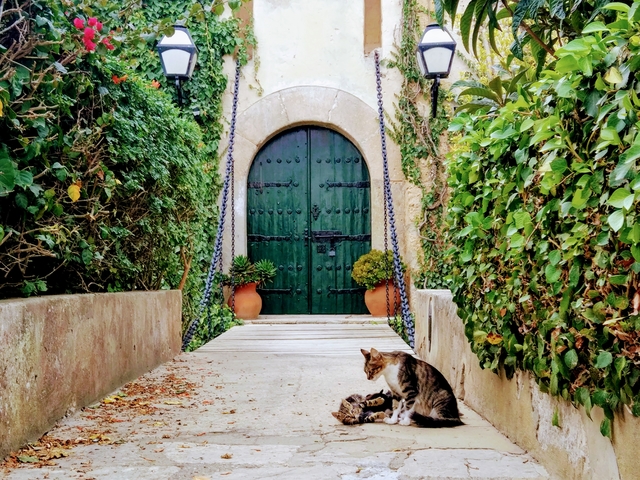 I think the perfect time for me is now during the shoulder months (either side of peak season). The town was really quiet and I got to explore the cute little shops and wonderful places to eat. One place I really like was StressFree cafe with its delicious food, wide selection of teas and run by a friendly couple. I ended up sleeping here for a couple of nights in Clyde my camping car as I loved it that much. I also met someone's pet seagull which was pretty tame and spent some time playing with a mother cat and kittens.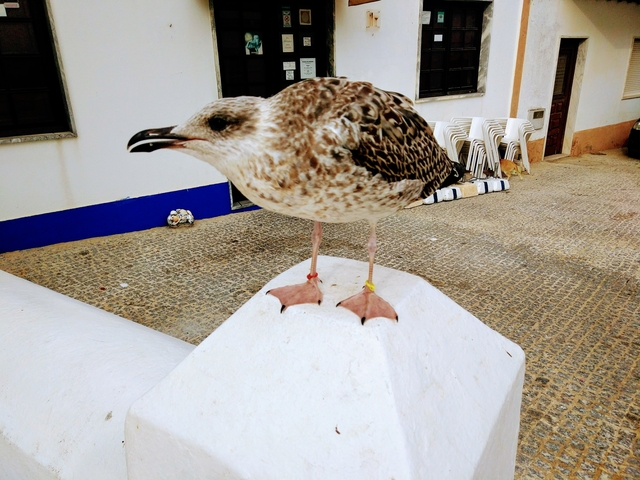 I really loved the dramatic, rugged coastline of Southwest Alentejo and Vicentine Coast Natural Park. I really liked the natural beauty and most likely due to the time of year, how quiet it was. The highlight was the very active night sky which has a lot to do with a meteor shower but also due to there being so little light pollution here. At Sagres point, I laid down in my camping car and stared out up at the sky to watch an amazing display by Mother Nature. My natural television screen with the Milky Way being on prime time with adverts of shooting stars and the numerous satellites that crept across the screen. I slept with the sunroof open, safe in my camping car but still sleeping with my head under the stars.
Moving east along the southern coastline, I headed to Faro. This really is an under-visited place with people flying in here and heading straight to get to the Algarve. Getting lost on the cobbled streets of Faro was wonderful. With lots of little cafes and bars down the twisting roads, you cannot help but stop for a nice cold beer. I came across some quirky places and street art.
Tavira is very close to the Spanish border, my final stop in Portugal. This beautiful town has an ancient background and is lined with cobbled streets and historic buildings. Round every corner, there was something new to see. The River Gilao flows through the town centre and the shallow water and mudflats make it a haven for migratory birds and sea life. It has ferry access to the sand bar islands off the shoreline with pristine beaches. A really nice place to get away from it all and enjoy my last few days of Portugal.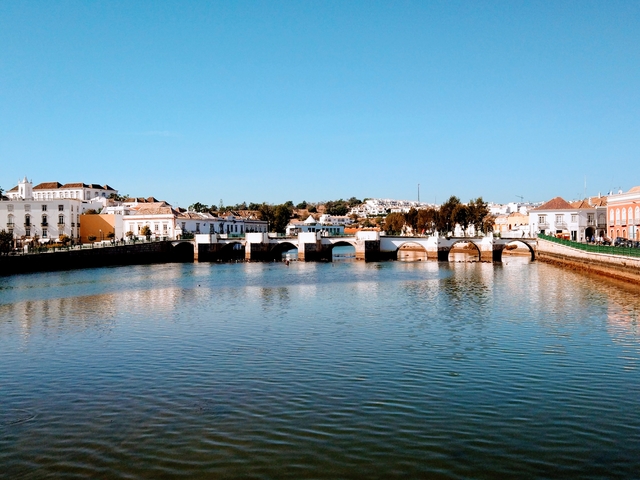 Nights in Portugal: 49  Distance driven: 1300miles/2092km
Highlight: Meeting up with old friends
Lowlight: Tigger being ill
What do you think of my trip through Portugal? Anywhere that I missed that you would recommend? Don't forget to subscribe (It's free!) to my blog to receive my up to date travels around the world and to read more like this. Happy travels.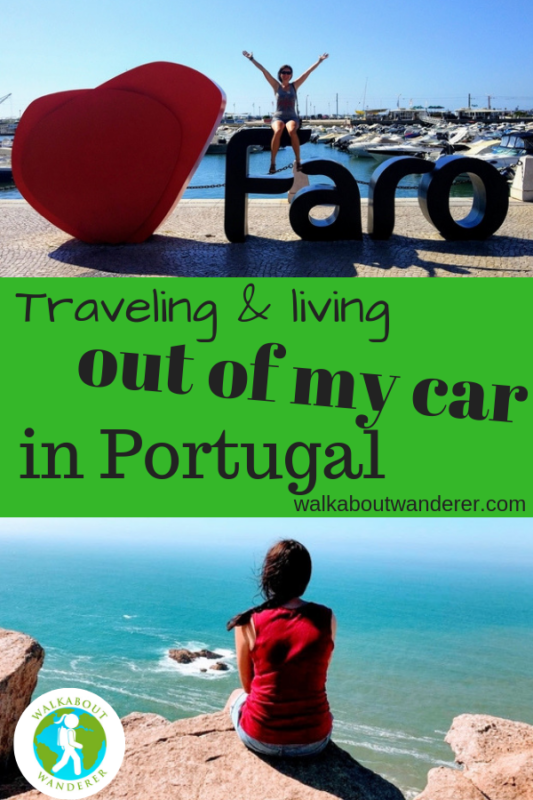 Just a note to say:
Have you noticed I do not have intrusive adverts on my page making the site run slow for you, or that interrupt your reading. This is because I want to make your reading experience as pleasant as possible. Writing blog posts isn't as easy as it looks. I spend a long time making sure I give you correct information about places, edit the posts so they read well and then add the edited photos I have taken or add the google maps location. I do this as I love to travel and love helping other people to travel. If you enjoyed what you have read then there are other ways you can support me as a travel blogger other than putting up with annoying adverts:
You could buy me a coffee
Use the links on my sources page which are affiliates.
– Head over to Amazon to buy some products using this link .
– Looking for website hosting? Take a look at Bluehost using this link.
– Need to book some accommodation then check out Booking.com and Skyscanner for flights, check them out using this link.
Thank you for your support.