France is well known by the English for frogs legs, great wine and garlic snails. But I will most remember France for it being the starting place for my grand Western European Tour. With cheap ferries from Dover, UK, when I had to leave the country in a hurry due to the small print of my travel insurance, I found myself in France armed with a 14 year old Nissan X-trail and a blow up bed.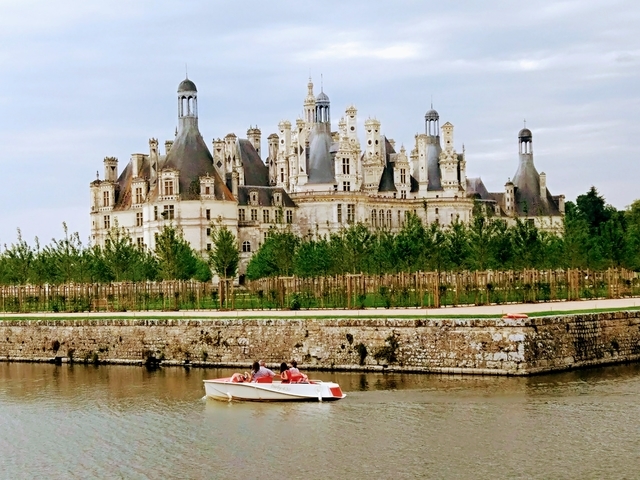 I never expected to spend 4 weeks in France but I really enjoyed exploring the north of the country – so much that I had to drag myself away from it. So this is a round up of my time in Northern France, the birth of Clyde, my camping car and the start of my love of French red wine and a freshly baked baguette.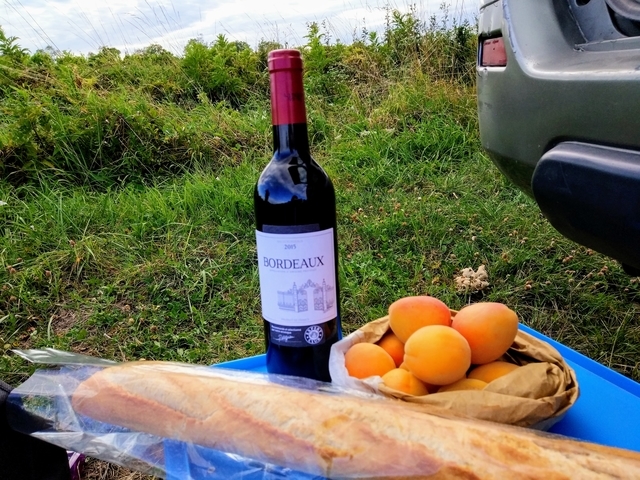 The first night was spent camping in the garden at a beautiful Airbnb, just an hour away from Calais. I didn't want to travel too far into France before preparing Clyde to become a camping car, just in case it wasn't possible. I also didn't want to wild camp too close to Calais due to the possibility of being disturbed by one of the many immigrants who live round Calais in the numerous camps. Their situation broke my heart when I saw them as I drove along the roads near the ferry. They are desperate – and desperate people can do desperate things to provide for their family but I didn't want to be a victim of their desperation. There are many ways that you can help the people at these camps and if you would like to do so then check out this charity.
At this Airbnb I checked to see if the airbed actually fitted the car and if I could rearrange the explosion that had happened in the back following me grabbing everything I thought I might need for a comfortable trip and dumping it in the back of the car. Surprisingly everything fitted well and it began to look really comfortable. I realised that I made a great decision to purchase Clyde my camping car.
After picking up my Bla Bla car passenger, a lovely French lady who was travelling to Paris to surprise her boyfriend, I headed via Paris to Orléans. The lady did not speak any English and my high school French did not really cut it, but we had a nice sing along to random songs on my ipod most of the way. In Orléans I met my friend Celine who I met in Australia. This is the second time I have visited her and perhaps the last time she ever invites me after I put her to work making the blinds and curtains for Clyde. I have to say they came out fantastically and really did the job.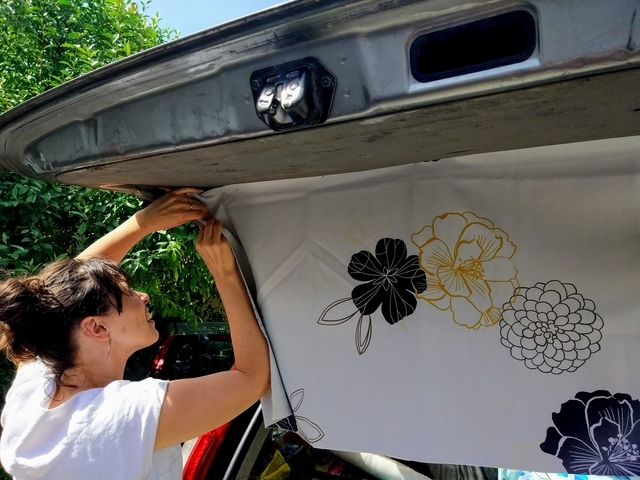 I owe Celine a lot for her making these as they gave me the privacy and protection from street lights at night. They made my life in Clyde a lot more comfortable and it is possibly the reason why I managed to sleep in my car for 4 months.
After waving goodbye to Celine . . . . twice, due to a flat battery the first time, I headed back towards Paris to discover the Foret de Fontainebleau which covers an area of 110 sq. miles (280 sq. km). I stayed in a great Airbnb on the edge of Foret de Fontainebleau. Here Clemont the owner was kind enough to take me in her car around the surrounding area. I visited quaint little villages and even met a marmot with a couple of swans at a little stream in Fontaine-le-Port, This is why I love staying at Airbnbs, you meet so many kind and wonderful people who will go out of their way to make you feel welcome and to show you around.
It was time to try out Clyde, my camping car, after spending the day walking in the Foret de Fontainebleau, I settled down for the night. Clyde was a roaring success. Very comfortable and private. The next day, I headed towards Tours stopping off a few places on the way. Tours is a beautiful city with a lot of historic churches and great food and wine. Staying down by the River Loire was perfect. Camper vans were not allowed as they had a height restriction, but Clyde my camping car was able to drive in easily. Here I set up camp, cooking on the gas stove and making friends with some of the the picnickers.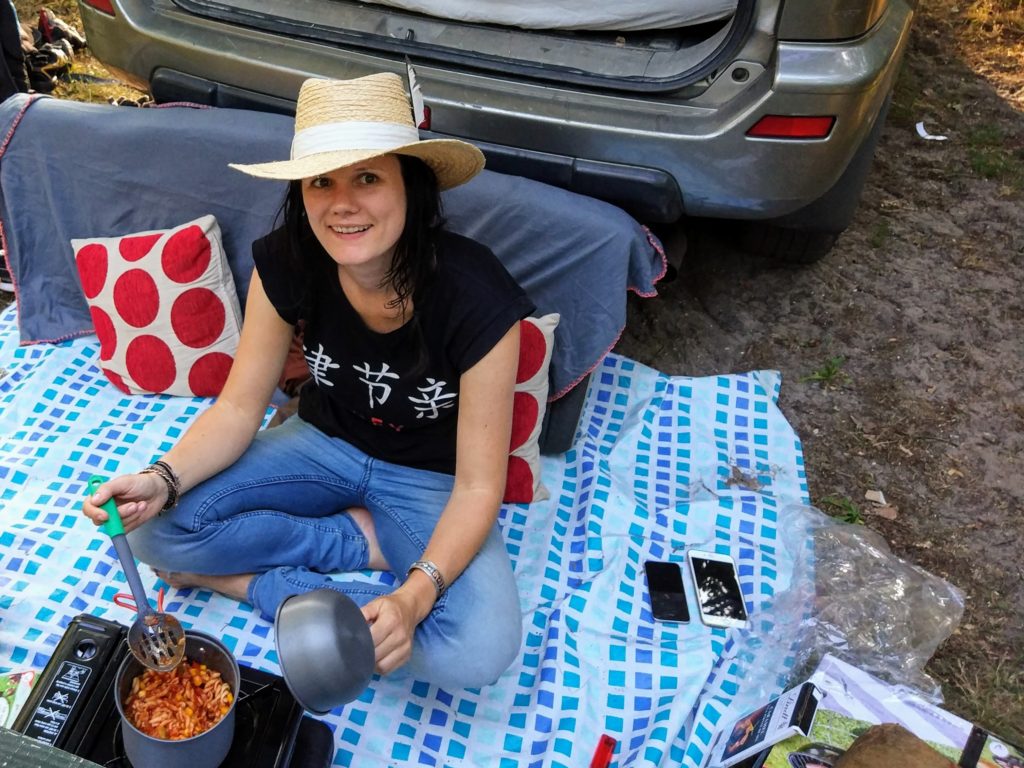 Angers was the next stop of my tour of the Loire Valley. Here I again stayed in a car park, this one opened out into a nice park. Nearby was a campsite and I used their facilities to wash myself and the pots and pans from my evening meals. I had a rather uncomfortable night's sleep following the slow puncture I gained in my air mattress. It was this night that I realised that you should leave the air mattress inflated during the day as it is prone to punctures.
The next day, in a coffee shop, in Angers, I met a local professor who heard me struggling with my order in French and started chatting to me in his near wordperfect English. He took me on a tour of the area and the local wineries before enjoying a rather, what I felt, confused restaurant that sold Thai and Indian food. I met his housemate who was lovely. From Sri Lanka, she was really nice to chat to and that night I had a bit more room as I bedded down on my newly bought air mattress on their living room floor.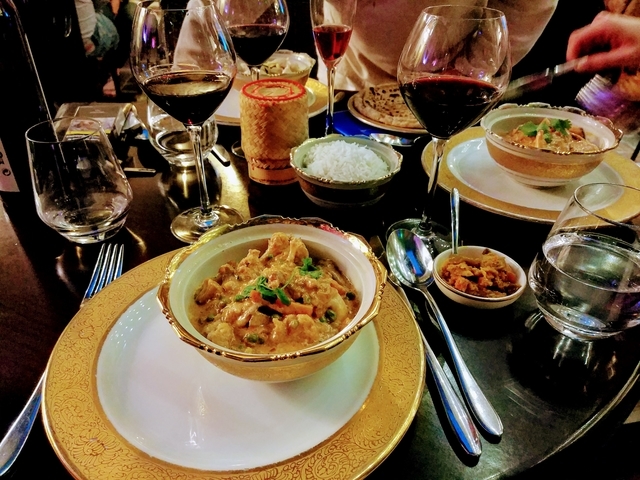 One part of Angers which I really enjoyed was the vegetable garden in the town centre. Each day they fill boxes full of ripe vegetables for people to take for free. It is a really nice area to hangout in. I really enjoyed my time in and around Angers but it was time to head off towards the coast. With a brief afternoon stop in Nantes, I arrived in Pornic.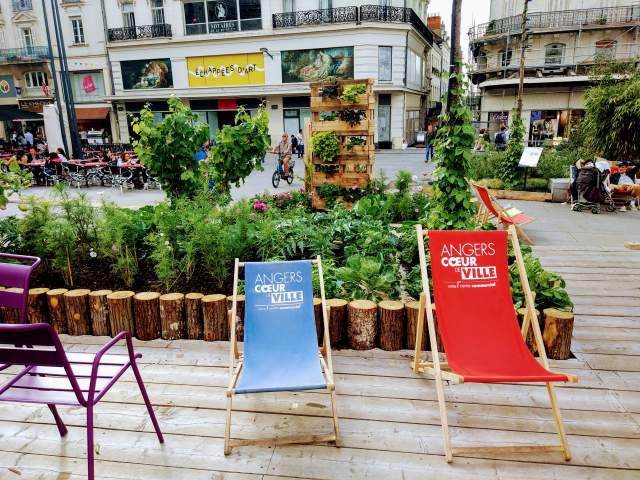 Pornic is a sweet little town on the northern coast of France. During the summer months at weekends, it is heaving with tourists, but no wonder, as there is so much to do and it's a day trip away from Nantes. Here I had a bed with a sea view, choosing a car park just down the coast from Pornic, looking out to sea. Again this was very close to a camp site where I was able to use their amenities. I so loved wandering the coastline here that I stayed in the same spot for two nights before heading towards La Rochelle.
I hadn't really heard of La Rochelle before but this was my favourite city in France. It has everything from the wonderful architecture to the trendy street art. However it was in La Rochelle that I learnt my lesson about sleeping in supermarket car parks within the city as well as having your windows open just enough to allow fingers through.
It was in La Rochelle that I had a nosey parker, poking his fingers into Clyde my camping car and trying to push the blinds down. This was pretty brave of the person as he didn't have a clue who, or what, was in there – considering I had been parked up for 8 hours and it was just getting daylight. However with a yell from me, he soon sped off in his van. From then onwards, I parked only in rural areas, and slept with the back windows, open only the tiniest gaps so no finger tips could be poked in. The next night, I went to a more rural area to sleep.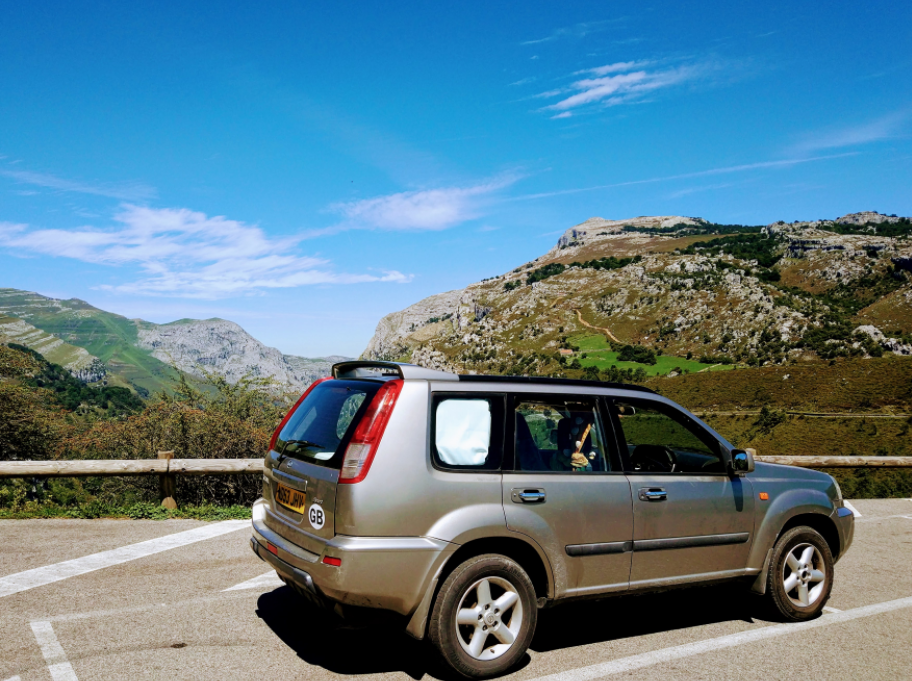 After spending 8 days in the car or on the floor of a living room, I felt that Bordeaux should bring me a little bit of luxury. I headed onto Airbnb where I found a bargain deal for a whole house in a village, a stone's throw away from Bordeaux. However due to my late arrival, I got there when it was dark and had to search an old spooky farmyard-type garden for the key box to gain access. But when I turned on the lights in the house, I realised I had struck gold. With great wifi, a nice kitchen (bonus with a dishwasher) and a power shower, I slobbed out for two days. I also decided to purchase an addition for Clyde and got an electric cooler box. By freezing water when I had the opportunity, I manage to use this really well for the rest of the trip and saved money on bottle water (and the environment).
It was also a time to give Clyde his first health check. This probably should have been done prior to setting off and traveling 1000 miles but it is better late than never. Topped up with water and oil, Clyde was doing well. And topped up with clean, washed clothes and a sort of fridge, I too was happy.
And as for Bordeaux, I have mixed feelings. I found the city beautiful, but the people cold and a little unfriendly. I also found it very expensive but still managed to write my 10 free things to do guide for Bordeaux. From here and by using Bla Bla car, I headed into Spain with my fuel costs being split three ways.
As the north of France was my first leg of the journey in Clyde the camping car, it was when I was still finding my feet. I was slow at preparing him at night into a bed. I was uneasy about where I should or should not park. But I found the French police very accommodating. At one place they came round, several times at night to make sure I was OK. I also found that other campers were friendly, but not friendly enough to invite me to spend time with them. I also found myself locking myself in Clyde a few times, and having to escape via the window or sunroof until I found the best solution of locking myself in at night – which turned out to be very easy actually.
Nights in France: 27 nights         Distance driven: 1154 miles/1857km
Highlight: Discovering La Rochelle and spending time in Orleans with Celine.
Lowlight: Having a nosey person look into my car.
Have you ever been to France? Did you enjoy reading about my time there. Comment below. And don't forget to subscribe to my blog (It's Free) to get fortnightly emails to your inbox.

Just a note to say:
Have you noticed I do not have intrusive adverts on my page making the site run slow for you, or that interrupt your reading. This is because I want to make your reading experience as pleasant as possible. Writing blog posts isn't as easy as it looks. I spend a long time making sure I give you correct information about places, edit the posts so they read well and then add the edited photos I have taken or add the google maps location. I do this as I love to travel and love helping other people to travel. If you enjoyed what you have read then there are other ways you can support me as a travel blogger other than putting up with annoying adverts:
You could buy me a coffee
Use the links on my sources page which are affiliates.
– Head over to Amazon to buy some products using this link .
– Looking for website hosting? Take a look at Bluehost using this link.
– Need to book some accommodation then check out Booking.com and Skyscanner for flights, check them out using this link.
Thank you for your support.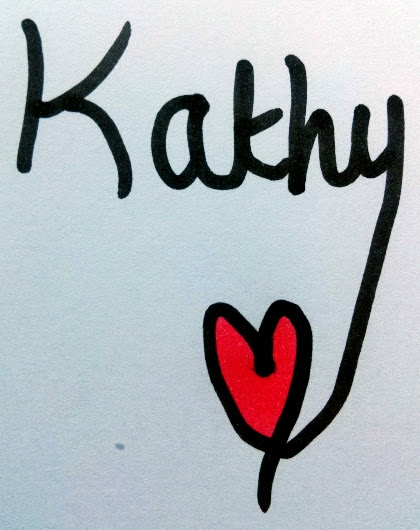 Disclaimer; this post contains affiliate links meaning at no extra cost to you, I receive a small amount of money when you purchase them to help with running costs of my blog. All thoughts I have on these items are my own and I would only ever recommend products I truly believe in. Please support my blog by using the links.